As the world's most powerful economy, the US is an attraction to many foreign businessmen. To enter the US with the intention of getting involved in certain business activities you must obtain first a US business visa?
But how can you get a business visa for the USA? We're going to cover this topic below.
What Is a US Business Visa?
First thing first, why this is this type of visa. By definition, the US business visa is a type of non-immigration visa that you must obtain to enter the US to engage in business activities. In legal terms, the US business visa is known as the B1 visa.
However, this visa doesn't grant you an entry permit to the US to participate in every kind of business activity. In principle, the B1 visa is meant for short-term business activities. Among others, this may include the following activities:
Contract negotiations
Meeting business partners
Interview job applicants
Attend important business conferences
On the other hand, as a B1 visa holder, you cannot establish or run a business in the US.
How To Get a US Business Visa?
As for any other type of visa, there is an application process you must go through. Although you might be familiar with a random visa application it's always worthy and recommended to re-read relevant information. Moreover, they might be slight variations or updates you should not miss.
For an easy and smooth business visa application follow the steps below: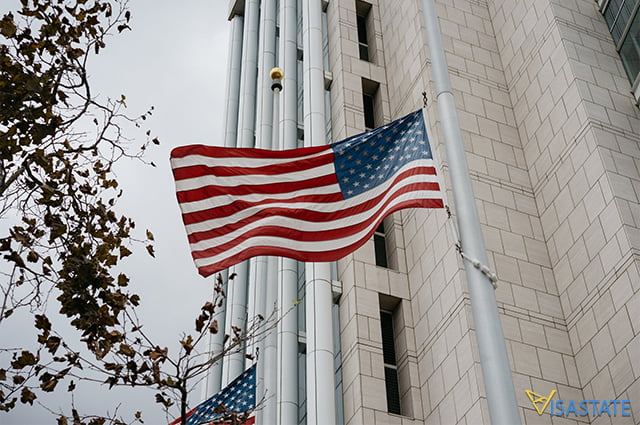 Complete the online application – You can do this on the official website of the US embassy in your home country. Typically, you will be required to fill the non-immigration application form (commonly known as DS-160). In addition, you will have to provide a valid pass photo. Make sure that the photo is not old.
Pay the application fee – Typically, the application for a US non-immigration visa is $160.
Schedule your interview – Next, you must schedule an appointment at the US embassy in your home country. You can do this online via their official website. There you'll find a specific page with all available appointment dates. You're free to choose among them. After you've selected one date, your request will be processed and you will immediately receive a confirmation email. Make sure you print that email and attach it to other application documents.
Gather the required documents – US business visa requirements include:
Valid pass
A pass photo
DS-160 Application Form (Filled properly and printed)
A confirmation of your appointment
A bank statement (to prove that you possess the necessary funds to cover the cost of your business trip to the US)
Attend the interview – On the appointment day, you will go through security checks, submit your application documents and attend a short interview with an official. The purpose of this short interview is to get more information about your and the intention of your business trip to the US. In this way, the embassy will be able to better rate your qualification for a US business visa.
Get your visa – Upon approval from the embassy, you will receive an email confirming that you've been issued a US business visa. You can then show up at the embassy to get it. Also, the embassy can deliver it to your address, but you will have to pay for it. However, in this case, you must provide your address on the appointment day.
Additional documents
Keep in mind that the officials at the embassy have the right to require from you additional documents at any time if they consider it needed. The purpose of this is always to better assess your qualification for a B-1 visa. Typically these additional documents may include
Evidence of the business activity you plan to do in the US
Proof of receiving an invitation to participate in a business conference
Proof of your family ties
Proof that you will return home when your planned stay in the US is over (You can do this by submitting a document of your family ties or by presenting a long-term project that you're involved in your home country)