US visa sponsorship – Only a few countries can compare to the US when it comes to its economy. Home to some of the biggest companies in the world the US job market is a dream for many. In addition to US citizens and legal permanent residents, the US companies count many foreign skilled individuals. To make your dream of working in the US come true you must first take care of legal issues in place. In other words, you must obtain a specific type of visa.
Since the US has a number of different visas you can easily get confused as to which one you need in your case. If you want to work in the US then you certainly need an employment visa. However, you can seek this type of visa under the sponsorship of a US employer who is willing to hire you.
The information below will help you understand and follow the application for a US sponsorship employment visa.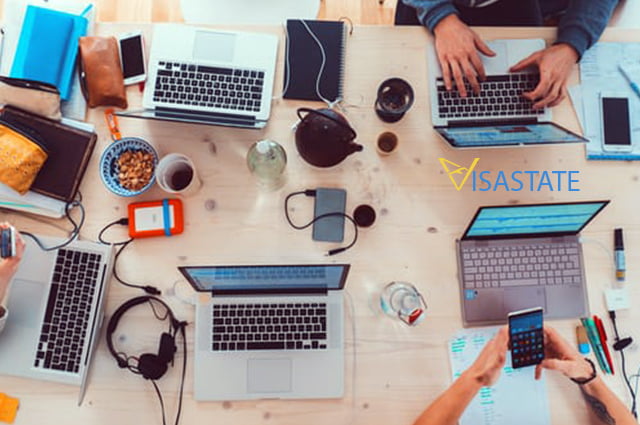 How Do You Get a US Visa Sponsorship For Employment?
To get a US visa sponsorship for employment you must first receive a job offer from a US employer. The company will send you a copy of your contract which you need to sign and send it back. They're going to need it to request the sponsorship of your US employment visa.
To do so they will have to complete some legal procedures with the US visa authorities. As part of this process, they must first satisfy their decision to hire you over a US citizen or resident. How can they do this? For instance, they can post job ads to the Department of Labor and if they don't receive an application or find no qualified candidate they can choose a foreign employee. They might not necessarily need to post these ad jobs as long as they can provide strong evidence that you're the most suitable applicant. In addition, they must prove that you're going to be paid equally to a US employee holding the same position.
However, a labor certification from the Department of Labor is not required for all US employment-based visas. There are some non-immigrant visas for which the US employer can directly petition a sponsorship file to the U.S Citizenships and Immigration Services.
How Do You Get a US Visa Sponsor Letter?
You cannot apply at the local US embassy for a sponsored US employment-based visa without having a visa sponsor letter. To get your visa sponsor letter your employer in the US must file a petition form on your behalf to the USCIS. Their petition file must contain some required documents, in particular, your job contract and your qualifications. In addition, they have to fill out a specific petition form. Actually, there are two types of petition forms:
Form I-129 Petition for Non-immigrant Worker
Form I-140 Petition for Alien Worker
Your employer can find detailed information about filing this petition on the official USCIS website. However, many US companies hire lawyers to carry out this process. The main reason is to avoid potential mistakes which can delay the processing of their request.
It's very important for you to know that USCIS collects so many such petitions every year and processing them all takes time. Therefore, the wait time can be long. Sometimes, the employees receive a notice only a few months after.
FAQ
How long is your US-sponsored visa valid? – It varies depending on which type of visa you're holding. For instance, a H-1B visa is valid for 3 years whereas other types of visas are typically valid for 1 year. Therefore, make always sure to check for how long is your visa valid. If you overstay your visas certain consequences will follow.
Can I apply for a US employment visa without sponsorship? – Yes. There are a few short-term employment-based visas for which you need a sponsorship from a US employer. However, for most of them, a sponsorship is a fundamental requirement.
Does the USCIS provide reasons if they deny your employer's petition? – Yes. You and your employer will receive a notice with reasons that led them to take that decision.