Job Seeker Visa -Better job opportunities and future career plans motivate many people to seek employment abroad. If you're considering a similar plan you must know that this is not an easy way to go. There are legal matters in place you cannot skip and inevitable procedures.
This comes down to one thing: earning a specific immigration status that allows you to engage in work activities in the host country. In other words, you need to obtain a job seeker visa.
If you're soon applying for one it's normal to have a lot of questions. Worry less because in the following you'll find the answers to them.
What Is A Job Seeker Visa?
In general, the intention of your visit to a foreign country determines the type of visa you must obtain. Therefore if you're seeking employment abroad you must first obtain a job seeker visa.
This type of visa does not entitle you to work in a foreign country. It's rather a permission to stay in that country with the intention of finding a job.
There are two possible outcomes:
If you find a job you can extend your stay in that country. However, you must switch to another type of visa (typically a work visa or a residence permit)
If you cannot find a job you must return home.
How Long Is a Job Seeker Visa Valid?
Typically, your job seeker visa is valid for up to 6 months. Nevertheless, this can be different for different countries.
Where Do I Apply For a Job Seeker Visa?
Typically you can apply for your job seeker visa at the embassy or consulate of the country you seek employment in your home country or country of residence. However, you must satisfy certain criteria and follow some procedures which we cover next.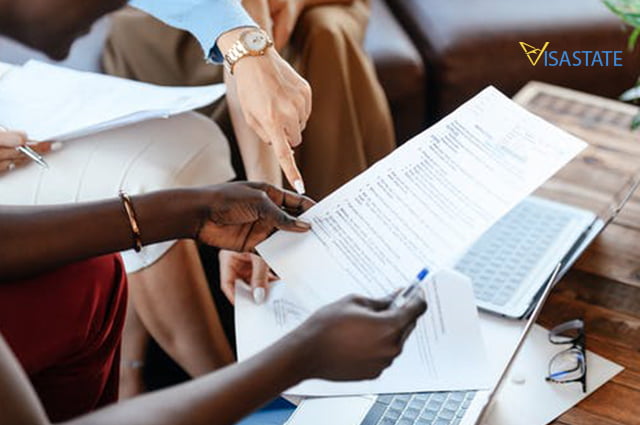 Am I eligible To Apply For a Job Seeker Visa?
Before proceeding to the application process you must make sure you're eligible for a visa.
Commonly, eligible job seeker visa applicants must meet the following conditions:
Hold university-level degrees (MSc. Or Bachelor)
Have a relevant and long work experience
Have sufficient funds to cover the cost of their stay abroad
Note that it doesn't suffice always to hold a certain degree. Your qualification must be first recognized in the host country. Typically countries have individual degree schemes and the ones you hold will be compared to that and if proved equivalent you can then apply for your job seeker visa.
In addition, countries set a bottom limit of work experience you have prior to your job seeker visa application. Typically, you must have at least 3 to 5 years of relevant job experience.
Also, the amount of funds you're required to have to cover the costs of your visit is not the same for every country. Usually, that amount is calculated by taking into consideration the cost of living in the country you're seeking employment in.
Nevertheless, you must remember that immigration authorities of each country set independently their criteria for job seeker visa applicants. Although not very common you can expect any other specific criterion.
Europe Job Seeker Visa
With its high economic development and low unemployment rates, Europe is a gravitating location for many foreign skilled and experienced employees. If you've made the decision to work abroad chances are high you're also thinking of Europe as your destination. To be able to work in the European continent you need to obtain a visa from an European country.
Am I Eligible For a Job Seeker Visa In Europe?
Your eligibility for a European visa depends on two main factors
Your nationality and
The European country you're seeking employment
In principle, if you're a citizen of Schengen country planning to work abroad in another participating country you don't need a job seeker visa. However, Schengen countries are free to set criteria independently. For example, in many Schengen countries employees from other countries of the zone must show up in person at local authorities.
On the other hand, if you come from elsewhere you need at all costs a visa.
Typically, eligiblee applicants you must meet the following criteria
You must hold a recognized university-level degree
shave at least 3 to 5 years of job experience in your field
the necessary funds to cover the cost of your stay in Europe
If you're a European citizen, particularly of a Schengen country the recognition of your qualifications will not be a major problem. EU countries have made a lot of steps towards the unification of their educational system in order for qualifications to be comparable. For instance, the European Credit Transfer and Accumulation System is developed to make degrees easily converted.
Note that there is no such thing as a Europe visa. Each country has its individual visa policies. Therefore, slight variations in matters related to this type of visa might be present.  
How To Apply For a Job Seeker Visa in Europe?
First, you must prepare your documents. Your application file must contain:
Completed application form
Valid passport
Pass photos
Travel medical insurance
Evidence of your academic qualifications (recognized)
Proof of language proficiency
Proof of accommodation in Europe
Note: You must submit original copies along with one or two printed copies.
After you've completed your application file you must make an appointment at the embassy of the European country in your locality. The appointment wait time varies from one embassy to the other. As a rule of thumb, they will arrange an appointment within days.
On the appointment day, you must show up in person. The official consular might ask you several questions. If there are documents missing in your file or you've attached fraudulent documents to your application the embassy will reject the application right away. In that case, you must make another appointment.
Next, you only have to wait for the embassy to process your application. Normally, it takes a few days for the embassy to process your application.
How Long Can I Stay in Europe With a Job Seeker Visa?
On a visa, you can live in a country for up to six months. You must use this time to find a workplace. If you find the job within less than 6 months you must contact the local authorities and they will let you know what type of visa or residence permit you must obtain next.