US Student Visa – An international study experience is what many students dream of. Studying abroad is not only about getting an international degree. It's also an opportunity to meet new people, introduce yourself to different cultures and make memories. And where can you get more of these than in the US?
Home to the world's best universities and renowned academics the US ranks at the top of the most favorite destinations in the international students market. Currently, there are more than 1 million international students in the US.
If you want to travel to the US with the intention of studying you need a US student visa. The following material covers everything you need to know about student visa requirements and the application process.
Before you can apply for a US student visa you must satisfy a single fundamental condition: you must have an admission letter from a US higher education institution.
If you're going to attend a course that will lead to a university degree you typically need a F type of visa. On the other hand, if you plan to attend vocational training or a similar short-term non-academic course you need a M type of visa.
How To Apply For a US Student Visa?
As usual, when applying for a US visa the online application comes first. At this stage, you're required to fill the so-called DS-160 Form. This application form is accessible to you on the website of the US embassy or consulate located in your home country. You will also need to upload a good quality and recently taken pass photo. Check multiple times to make sure you've typed your personal data correctly. In the end, you must print it and attach it to the other documents you're going to present as part of your application.
Next, you must schedule an appointment at the embassy. Similarly, you can do this online on the website of the US embassy or consulate. Normally there is a list of available appointment dates and hours you can choose between. After you've made your choice you're going to receive a confirmation email. This, too, you must print out and bring on the day of the appointment.
Usually, it takes a few days in order for the embassy to arrange an appointment. However, this rule is not immune to change. The appointment wait time varies mostly with respect to the embassy's workload.
After that, you have to pay the application fee of $160. This application fee is not refundable.
Now it's time to complete your application file. In order to meet student visa requirements your application must contain the following documents: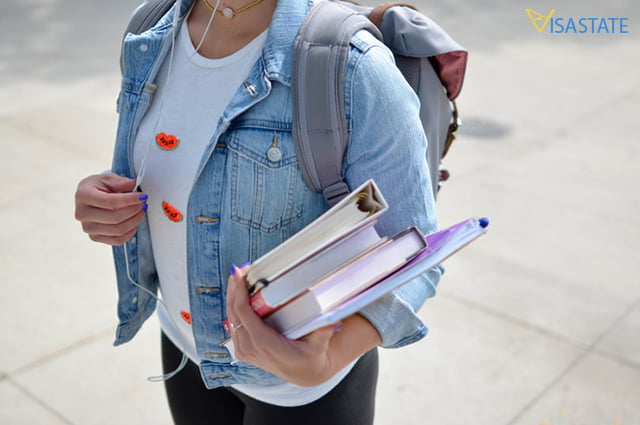 Academic degrees
DS-160 Application Form – (Printed and filled properly)
Certificate of Eligibility for Nonimmigrant Student Status – I-20 Form – Following your admission, the US university must register you into the Student and Exchange Visitor Information System. They do this by filling the I-20 Form. They will then send you this document and require you to sign it and use it for your US student visa application.
Valid passport – must be valid for at least six months beyond the expiration date of your visa.  
Proof of Language Proficiency – To study at US universities you must be fluent in English. You can prove your English proficiency by means of a standardized language test like TOEFL and IELTS. Keep in mind that your certificate must be no older than 2 years at the time of visa application.
A receipt of fee payment
Proof of Financial Funds – You must prove that you have sufficient funds to cover the cost of your study in the US. You can prove with a bank statement.  
Note: The embassy officials may require you to present other documents as well.
The next step is to attend the interview at the US embassy. The official in charge will ask you some questions to be able to better determine your qualification for a US student visa.Make sure to be on time for your appointment otherwise the embassy will proceed with other applicants.
Finally, you have to wait for the embassy to process your application. They will let you know of their decision via email or per post.
FAQ
Can I enter the US at any time with a student visa? – If you're a first-time US student visa applicant, you can enter the US only 30 days before your university course starts. Whereas continuing international students are allowed to enter the US at any time.
Can I bring a family member to the US on my student visa? – Yes, you can bring your spouse or children on your student visa. However, you need an I-20 Form for each of them.
How long is my US student visa valid following my graduation? – The US authorities expect you to leave the country within the next 60 days after the course end date, which is written on the I-20 Form.
Can I request a change of immigration status while studying in the US?– Yes. For example, if you marry a US citizen or receive a job offer you can switch to another immigration status.
In what circumstances will the embassy reject my application?– If you don't meet student visa requirement, upload fraudulent documents or you've been involved in criminal activities in the past, the embassy will reject your student visa application.
Do you need a F-visa if you're studying online at a US university and you must enter the country for a short time? – No matter how long you plan to stay, if you enter the US for studying purposes you must obtain a F-visa.