US Immigration Visa-The US is the country with the highest number of immigrants. Based on official data, one-fifth of the immigrants in the entire world live in the US. 
In view of its economical power, it's no surprise why so many people aspire to immigrate to this country. If you have similar plans for the future, you don't know how do you get there worry less because you're at the right place.
To legally immigrate to the US you must first obtain a US immigration visa. However, qualified applicants must meet certain requirements.
You're eligible to apply for a US immigration visa on a number of different grounds including here
Family ties
Employment
Special immigration
Adoption
In percentage terms, most US immigration visas are family-based and employment-based.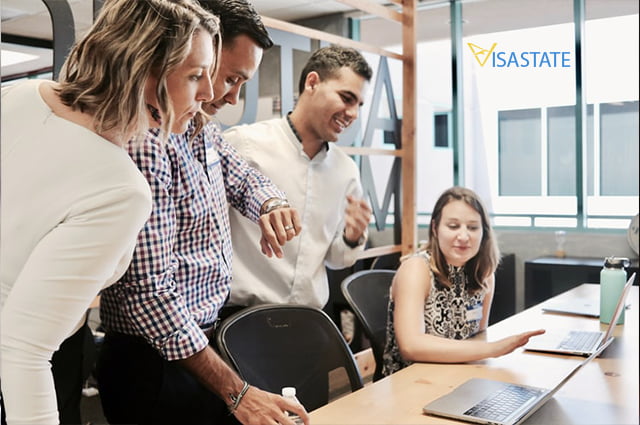 US Family-Based Immigration Visas
Any US citizen or a permanent resident (Green card holder) can sponsor an immigration visa for a close relative.
US family-based immigration visas are divided into two categories:
Close relative – your visa sponsor must be your close relative,  namely your spouse, child, or parent. Note that the number of these visas issued annually is not limited.
Family preference – is issued for specific, more distant family members. In contrast to the previous type, only a certain number of these visas are issued annually.
US Employment-Based Immigration Visa
If a US employer offers you a job you can apply for a US immigration visa on employment grounds. There are five categories of Employment-based immigration visas
Employment First Preference (E1): Priority Worker and Persons of Extraordinary Ability
Second Preference (E2): Professionals Holding Advanced Degrees and Persons of Exceptional Ability
Third Preference (E3): Skilled Workers, Professionals, and Unskilled Workers (Other Workers)
Fourth Preference (E4): Certain Special Immigrants
Fifth Preference (E5): Immigrant investors
If any of the above corresponds to your current situation then you're qualified as a potential applicant. However, to get your US immigration visa you must complete a visa application process.
How To Apply For a US Immigration Visa?
You have to follow these steps to apply for your visa:
The US citizen (your close relative or an employer) who is sponsoring your immigration visa must first file an immigration petition to the US immigration authorities on your behalf. Upon approval of their request, you can start the common visa application procedure.
First, you must choose an agent who is going to take care of visa-related matters. An agent can be an attorney, a family member, a friend, an employer etc. You can also choose yourself.
If you choose an agent you will have to file Form DS-261 Choice of Adress and Agent to the National Visa Center.
Next, you must make an appointment for your US immigration visa application. You can do this online via the official website of the embassy. After that, you must collect the documents required.
In general, your application must contain the following documents
Valid passport
Pass photo
DS-260 Application for Immigrant Visa and Alien Registration (you find this on the website of the US embassy)
Proof of paid fees
Proof of medical examination
Note: The embassy consular has at any time the right to require additional documents to better evaluate your qualification for a US immigration visa. For example, they may require you to provide evidence of your relationship with your visa "sponsor".  Also, make sure you include original copies in your application file. on Visastate