US Temporary Work Visa -The US is surely among the most attractive destinations for tourists from all around the world. At the same time, a high number of visitors enter the country with the purpose of seeking temporary employment. The US has a reputation of being a land of endless job opportunities and foreign citizens (students in particular) benefit a lot from temporary work in the US. visastate
What Is a US Temporary Work Visa?
The US temporary work visa is a type of non-immigration visa that you must obtain in order to enter the US to engage in temporary work activities. The period of time you're allowed to work in the US on such a visa is specified on your visa application or in the employment contract.
There a few different types of US temporary work visas. The purpose of your work in the US and the type of job you're going to do determines which type of temporary work visa you need.
These are the types of US temporary work visas: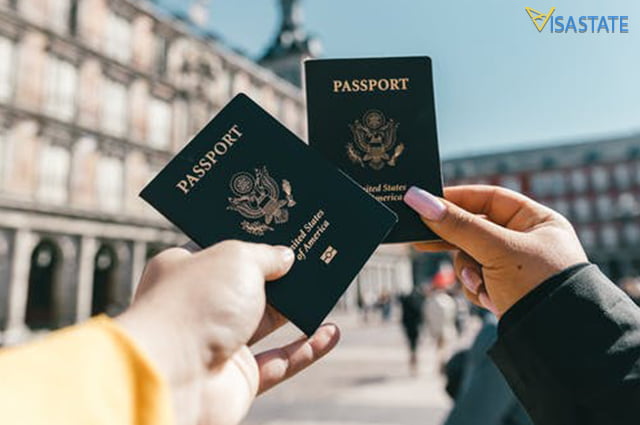 H-1B: Person in Specialty Occupation – Applicants of this category must work in a special occupation in the US. Typically, a recognized higher education or equivalent is required.
H-1B1: Free Trade Agreement (FTA) Professional – Chile, Singapore – Also, must work in a special occupation. At least four years of study in the field of specialization are required to be eligible. Note: this is not a petition-based visa.
H-2A: Temporary Agricultural Worker – for temporary work in agriculture. This category of visas is limited to nationals of certain countries. However, the US authorities can make exceptions to this rule if they consider it in their interest.
H-2B: Temporary Non-Agricultural Worker – for non-agricultural work. OnThis category is also limited to certain foreign nationals. However, exceptions may apply here as well.
H-3: Trainee or Special Education visitor – to receive specific training that is not available in the trainee's home country or to complete practical training programs in the education of disabled children.
L: Intracompany Transferee – to work in a branch of a company or an affiliate partner operating in the US. However, the visa applicant must hold a leading or managerial role in the company. Furthermore, the applicant must have previously worked at least 1 year for that company in the last 3 years.
Individual with Extraordinary Ability or Achievement – persons with outstanding abilities or achievements in science, arts, education, business, athletics, etc.  Also, this category includes individuals who provide essential services for the individual with excellent abilities for instance their parents.
P-1: Individual or Team Athlete, or Member of an Entertainment Group – to participate in an athletic completion as an athlete or as a member of an entertainment group. Evidence of previous performances is required. This scheme includes also the persons who provide essential support for the athlete or entertainer.
P-2: Artist or Entertainer (Individual or Group) – to participate in an exchange program between an organization in the US and an organization in a foreign country. Persons who provide essential support to the artist or the entertainer are eligible as well.
P-3: Artist or Entertainer (Individual or Group) – to perform, coach, or team under a unique traditional, ethnic, folk, cultural, musical, or theatrical program or make a presentation. The category includes also individuals who provide essential support to the artists or the entertainers.
Q-1: Participant in an International Cultural Exchange Program –to participate in an international cultural exchange program taking place in the US.
Before you can proceed with the random visa application procedure at the embassy, your employer in the US must first file a Petition for a Nonimmigrant Worker (formally referred to as I-129 Form) to the UCIS. After the UCIS approves their request you can start with your visa application. Note that the USCIS approval is not a guarantee that the embassy will provide you with a visa.
In addition, if you're applying for an H-1B, H-1B1, H-21, or H-2B type of work visa, your employer in the US must obtain a labor certification by the Department of Labor. Moreover, in cases when such a requirement applies, the employer is supposed to get this certification before even filing the petition for non-immigrant workers. Besides these two, L visa applicants need a Nonimmigrant Petition Based on Blanket L Petition as well.
After you've obtained these two documents you can start your visa application. As usual, when applying for a US non-immigration type of visa you must first complete the online application procedure. You can do this on the official website of the US embassy in your home country. As part of this stage, you will have to fill the application form for non-immigrant visa applicants, formally known as DS-160. In the next step, you must make an appointment at the US embassy. You can do this online as well.
Next, you have to prepare your application file. Make sure it contains the following documents
Valid Pass
Pass photo
DS-160 Form (printed and properly filled)
Receipt of fee payment
The receipt number- you find this on the Petition for a Non-Immigrant Worker obtained by your employer in advance. The embassy needs this document as evidence of your work contract in the US.
Proof that you will return home – there are many ways you can prove this. For instance, you can submit a document showing your economic situation, family relationships, or long-term plans you have in your country of origin.
After successfully preparing all documents you can schedule an interview. Make sure you do this on time because the US embassies deal with a heavy workload and might take some time to give you an appointment. The embassy officials will check your documents thoroughly and will make a short interview to judge better your application. On the interview day, you will also have to complete additional procedures like giving your digital fingerprints and paying any additional fees. Following your US temporary work visa application, you must way for the embassy to process your application.