In order to have an easy and smooth visa application process, you must first gather information about it. Fortunately, there is a lot of visa information for all countries available to you online. However, not all of it is relevant and regularly updated (as it should). Therefore you must always be able to identify reliable sources of information.
The US is among the countries that attract the highest number of foreign visitors. It is therefore of particular interest to talk about the US visa information because many can relate. Furthermore, much of this information is what you'd get if you would request visa information for all countries of the world.
US Visa Information
There are many types of US visas. The intention of your visit to the US and your nationality determine which of them you must obtain.
In a general picture, US visas are divided into two big categories:
Immigration visas
Non-immigration visas
As the name itself suggests if you plan to seek a residential status in the US the kind of visa you need is in the first category. If you plan to stay there for no longer than six months then you must get a non-immigration type of visa.
The US visa information is available to you by the US embassy in your home country. When you want to make a visa application, but you don't know how, check their official websites. Usually, there are many how-to guides to help with your application. If, however, there are things you don't fully understand you can send them an email or reach over the phone.
In addition, there are also other online resources providing you with US visa information. However, we recommend you to be cautious with them. If you read something you didn't previously read on the official website of the embassy request from embassy details.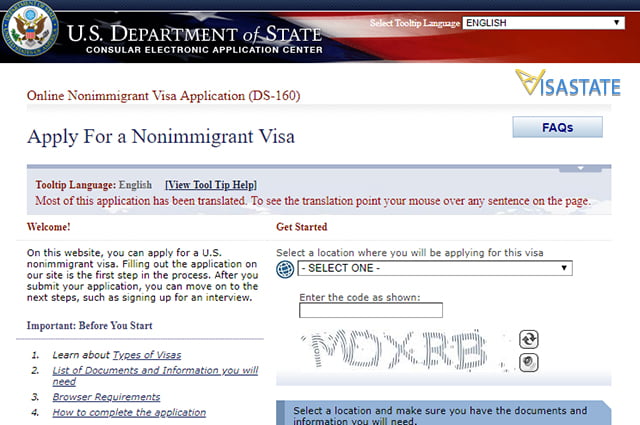 How Do You Apply For a US Visa?
After you've checked which type of visa you know, you must now meet a set of visa requirements. Again this will depend on your nationality and the type of visa you want to get. In general, you must collect the following documents
Your valid passport
A pass photo
An application form
Proof of paid fees
Proof of medical examinations
Normally, you will have to include a few other documents but that is specific to different types of visas whereas these are required in any case.
Where To Get Reliable Visa Information For All Countries?
With so many information sources available online you certainly wonder which are the most reliable ones. Remember the embassy of the country you want to visit is the first and main source of visa information. If you have questions about the application process or the requirements there is a set of detailed instructions. Moreover, whenever you don't understand something in particular you can contact the embassy over the phone or by mail.
That information is of course totally valid and regularly updated. That said if you're application is aligned with instructions provided by the embassy then you can rest assured that everything is okay.
In addition, there are other non-official highly authoritative online websites that provide help for visa applicants by sharing detailed guides. In a number of them, the information is highly reliable and regularly updated. Moreover, in several cases, these third-party information sources offer more detailed information than that provided by the embassy. Nevertheless, you must always check if both are in the same line.
The main advantage of these websites is that some of them provide visa information for all countries. If you're a person who travels a lot you certainly prefer to have all information about visa matter in one place and these websites are an opportunity for that.
How To Apply For a Visa?
The visa application process in other countries is quite similar to that in the US we explained above. However, if you read visa information for all countries you will note some slight variations very important to consider.
To apply for a visa you must typically complete these steps
Meet the visa application requirements – These include mostly a valid passport, a pass photo, an application form, travel health insurance, and specific medical examination. Of course, this depends also on the type of visa you want to get.
Pay the application fee – the embassy won't consider your application if you don't pay the application fee on time.
Complete the online application – Commonly there is an application form you must complete online.
Make an appointment – An in-person interview with embassy officials is mandatory. You will submit your documents, provide your digital fingerprints, and answer a few questions.
Get your visa – after your visa application is approved you're invited to the embassy to get your visa. Usually, that is a sticker stamped on your passport.
How Much Does It Cost to Apply For a Visa?
The cost related to a visa application is a common concern for all visa applicants. Just like with the application process when you consider visa information for all countries you notice some differences in terms of visa fees. In general, every embassy will require you to pay an application fee. The cost of it varies among embassies of different countries. Moreover, this can change among embassies or consulates of the same country.
Side note: Besides an application fee, in many cases, there is also an issuance fee you must pay when getting your visa upon approval.
Final Note
Correct information about visas is essential for a successful application. With the great amount of it accessible to you it is sometimes challenging to identify valid information. Therefore, we recommend that you always request information from embassies because they're the most reliable information source. Check always their websites as there is a large set of detailed information and guides to help you with your application. In some cases, you can rely on information from other non-official sources. There are websites that provide visa information for all countries. Anyway, check always if that corresponds to that provided by the embassy.