If you're a citizen or a permanent resident in the US you can sponsor a visa for your close family member. To do that you will have to file a petition to the U.S Immigration and Citizenship Services UCIS on their behalf. Also, you must write a formal letter, to the US embassy where your family member is going to submit his/her visa application.
Since it's a formal letter, it's normal that you're not sure what and how to write one. In fact there is no standard way of writing a letter of invitation. However, there are certain elements that every letter of invitation for US visa must contain. Below you find everything you need to know about this.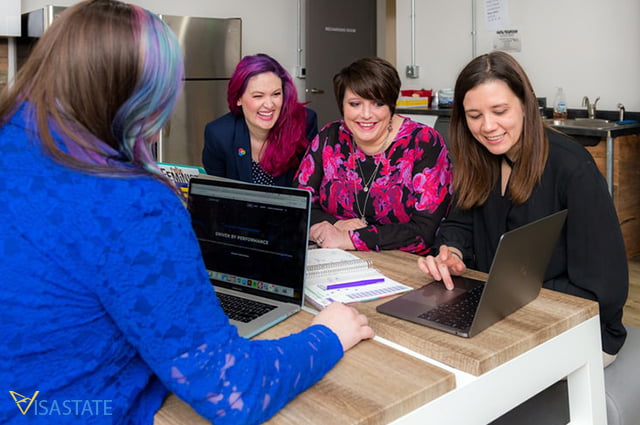 By law the US citizens and permanent residents have the right to invite close family members to join them in the US for a short visit. One can of course submit a US visa application without a sponsor but in that case chances of a visa approval are lower.
First thing one must to sponsor a family-based visa is to file a petition to the U.S. Immigration and Citizenship Services. In addition, they must write a formal invitation letter which is going to be used from their relative for a visa application at the US embassy. Commonly a formal invitation letter is required for B-2 (Tourist Visa) visas. Notice that this document is not a must but highly recommended as it can easily make difference in one's application for a US visa. Therefore it's essential to understand how does a sample letter for a family-based visa application look like.
First of all, with this letter, the host in the US confirms his/her close relationship to the visa applicant. Furthermore, they ensure that they will provide accommodation to the person and guarantee that they will return home after their visa is no longer valid. In addition, the host in the US may prove to have the required financial resources to fund the cost of the trip of their family member.
A typical sample letter for US family visa application contains these data:
Sponsor's personal data (name, surname, date of birth, address and telephone)
Sponsor's job place
Proof of US citizenship or permanent residency
Proof of relationship between the host and the visa applicant
The purpose of the trip
The planned duration of the stay
Accommodation cost and other living expenses
If you don't know how to write one from scratch we give you below a common sample of invitation letter for your US visa sponsorship:
[Date]
United States Consulate General
[Address of the Consulate]
Dear Honorable Consul,
[Visitor's Name] – PASSPORT NO XXXXXXXX – Born on [Visitor's Date of Birth]
My name is [Host's Name], residing at [Host's Address] and I am a United States citizen (or lawful permanent resident alien).
I am requesting that you issue a tourist (B-2) visa to [Visitor's Name] who resides at [Visitor's Address]. This is to allow him to visit me in the United States. We have known and been friends for the past 3 years and I would like him to visit me this summer.
[Visitor's Name] will be visiting me from [Date of Entry] to [Date of Exit]. This will be a great time because we will both be off work at this time. During his / her stay in the United States, he/she will stay with me at my home at the address stated above.
I will be responsible for his / her accommodation expenses while he/she is in the United States. Upon the termination of his / her visit, he/she will return to [Visitor's Hometown].
[Visitor's Name] will be presenting this letter to you, together with other evidence to establish his close ties with [Visitor's Home Country], and to assure you that he/she will return prior to the expiration of his / her stay in the United States.
Your kind consideration of this request will be highly appreciated.
Yours Truly,
[Host's Name]
[Host's Address]
[Host' Phone Number]
[Host's signature]
Final Note
US citizens and permanent residents can sponsor a certain type of visa for their close relatives living abroad. This document is optional and the visa applicant can opt to not submit it. However, writing an invitation letter for a US visa is highly recommended as it will significantly increase the chance of visa approval. Every eligible US visa sponsor can write an invitation letter. Although there is no standard form for this type of formal letter, one has to make sure his/her letter contains some essential elements. Last but not least, the sponsor must format his/her letter properly and let someone check for big grammar mistakes.